Editing Your Schedule
Making adjustments to your existing schedules is now easier than ever. To make changes:
Select "Calendar" tab


Go to the Rachio app, find the navigation bar at the bottom, and select the "Calendar" tab.

Tap the schedule you wish to edit


On the Calendar screen, you can see all your schedules under "Schedules". Select the schedule you wish to edit by tapping to open. 

Make edits


Tap the fields you would like to edit, then make your changes on the next screen. Tap "Done" to save. 
---
Enable/Disable
Turning a watering schedule on and off is simple - toggle the "Enabled" between the on (blue) and off (white) position. This is valuable if you want to keep a watering time that you have created, but do not wish to run the schedule. By disabling a schedule, you can turn it off or on as needed without permanently deleting it. Please note schedule limits if you're creating multiple schedules.
Name
You can change the name of your schedule - this can be helpful if you have multiple schedules and want to know exactly what schedule is running. Just tap "Name", update, and click "Done". 
Durations
Edit your zone durations quickly. You can increase or decrease the amount of watering duration (minutes) for each zone as needed.
Tip
To add a zone to the schedule, a new watering schedule will need to be created. Want to remove or turn off an existing zone? Go to the "Yard" tab, select the zone and disable the zone by toggling it off.
Zones
Zones can be easily edited within a schedule. Just open the "Calendar" tab from the bottom navigation bar of the Rachio app, select the schedule you want to edit, tap "Zones", and then tap to select or deselect desired zones; click "Done" to save your changes. 
Schedule Type & Watering Interval
One of our best features that enables you to set specific weekdays and/or intervals. Unfortunately, the schedule type and the interval type cannot be changed. To change either of these, you will have to delete and recreate the schedule. To learn more about schedule types, click the links below.
While you can't change the interval type, you can change the interval (number of days between waterings). For example, if you choose Specific Days as your interval type, you cannot change to a different type of interval, but you can change which days to run the schedule. Please note: changing the interval on a Fixed schedule will change the watering duration of the schedule.
Start Time
Edit the time the schedule starts watering. The schedule creator defaults to 5 AM.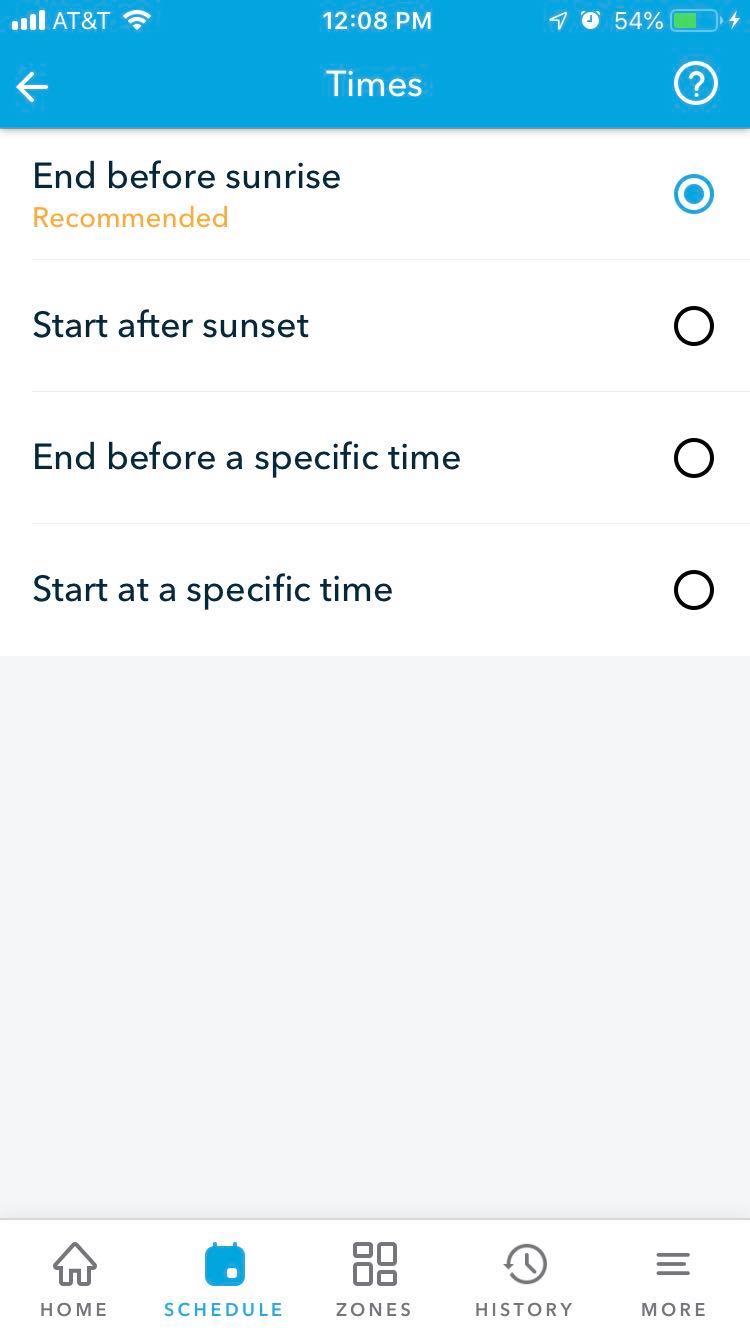 Please Note
The option to "end before a specific time" can only be applied to one schedule per controller; this is to prevent multiple schedules from being stacked and eventually moving out of the 24 hour period of your selected watering day. As a result, once this option has been applied to a schedule, the option will not appear when creating additional schedules. To change which schedule makes use of the "end before" option, go to "Calendar" tab > schedule name > "Times" > select when to start your schedule after or end it before.
Start & End Date
Start Date
Select a future start date if you're setting up seasonal schedules. The schedule creator defaults to the next allowed watering day.
End Date
Select an end date if you wish to disable the schedule in the future. This is great if you live in a seasonal area, or have seasonal watering restrictions. The schedule creator defaults this setting to "Never End."
Smart Cycle/Cycle and Soak
Smart Cycle splits the total schedule duration into a number of cycles with the goal of eliminating run off. The zone's soil type, nozzle type, and slope impact if and when Smart Cycle turns on. Smart Cycle cycles zones to ensure each zone will get at least 30 minutes between the end of one cycle and the beginning of the next. For more info, please see Smart Cycle FAQ. The schedule creator defaults this setting to enabled.
To update, select "Cycle and Soak" and then make your selection (Rachio recommends "Smart Cycle").
Weather Intelligence
Weather Intelligence consists of 5 different features that act as weather triggers to skip the watering schedule or adjust watering durations. The schedule creator defaults all of these settings to enabled. Learn more about weather intelligence here.
Delete Schedule
If you want to change up your watering and create a new schedule, feel free to delete your existing schedule. But be warned - this action cannot be undone. To delete a schedule, select the "Calendar" tab, tap the schedule you would like to delete, then select "Delete Schedule". Confirm that you would like to delete the schedule to make this permanent change.